DURM-0394
AD-R 30320
Fast, productive and perfect bending
Always precision bending results.
Minimum tool exchange and setting time.
Maximum speed and security
With simple programmable features the high speed AD-R Series press brake adds value to your business with low energy consumption, precision bending and maintenance-free structure.
This series can be used safely for many years and simplifies the operators work load. With DURMA press brakes, you always get great results

Description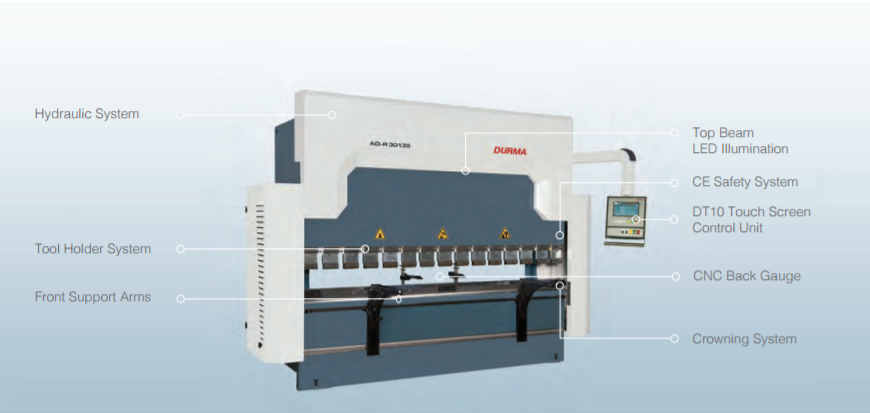 General Specifications
High sensitivity, Stress relieved steel construction body, long life Mono Block Frame.
DURMA designed and copyrighted guiding system.
Ball Screw and linear guide integrated perfect back gauge system.
Durable, long life and sensitive bending capability with special hardened top tools.
Suitable for segmented tools special and fast tool holding system.
Sensitive solutions on long and deep bending High accuracy linear scales.
CE safety standards Environmentally friendly ,efficient and perfect bending combinations.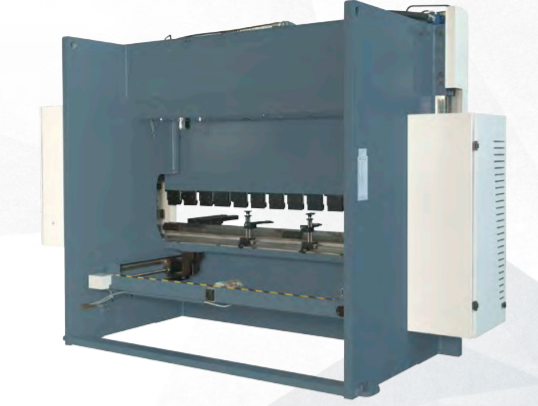 Why DURMA Back Gauge ? Most important feature to achieve perfect bending is the stability and the design of the back gauge, which allows an impeccable and correct product to be produced. The high speed ballscrew back gauge system movement is also supported with linear guides, which helps the back gauge achieve long life, greater sensitivity and strengthens against any collisions. Special designed finger blocks with steps to achieve maximum stability can also be supplied for every kind of bending solution.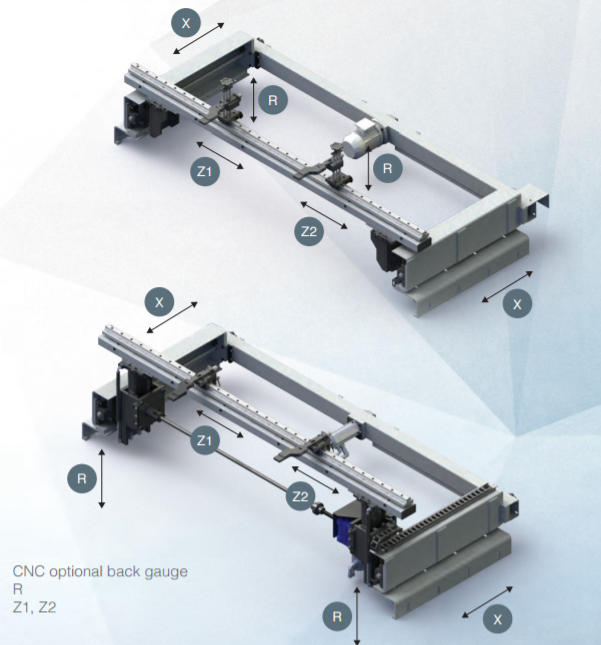 Additional Information
| | |
| --- | --- |
| Weight | 12250 kg |
| Dimensions | 4250 x 1770 x 2900 mm |
| Model | AD-R 30220 (220/380 Volts) (60Hz) (3PH) |
| Description | CNC Press Break |
| Bending Force | 220 ton |
| Bending Capacity | 3050 mm |
| Distance Between Columns | 2600 mm |
| Y Rapid Speed | 120 mm/sec |
| Y Working Speed | 10 mm/sec |
| Y Return Speed | 100 mm/sec |
| Daylight | 530 mm |
| Table Width | 104 mm |
| Table height | 900 mm |
| Stroke 160 | x |
| Storke 265 | s |
| Storke 365 | x |
| Throat Depth | 410 mm |
| Support Arms | 2 |
| Back-gauge finger blocks | 2 |
| Speed of travel in X-axis | 650 mm/sec |
| Motor Power | 22 kW |
| Oil Tank Capacity | 250 lt |
| Length | 4250 mm |
| Width | 1770 mm |
| Height | 2900 mm |
| Weight Approx | 12250 |
| Voltage | 220, 380 Volts |