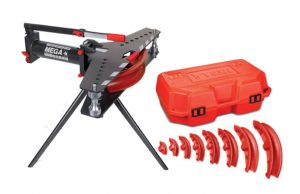 Bending work can be carried out-without physical effort ; Thanks to the high force of the hydraulic unit and the extension of the leverage allowed by the telescopic handle.
Fitted with retractable bending frame, indelibly marked, to facilitate easier positioning of bending supports and pipe.
"V" Shape frame design showing the 90 ْ angle reference, reduce hydraulic stroke and save bending time.